Today I want to present you a funny webcomic, about romance, sarcasm, mathematics and language, especially interesting for computer-Scientists or people who are intersted in science.
The name of the webcomic is:
Sometimes it covers topics that are trending in media, like the landing of the European space-probe Rosetta (see here), where the author created a picture for every 5 minutes of the rosetta landing process, with a total of 142 pictures, all live!
For every comic a mouse-over text is set, that explains the situation or gives additional information.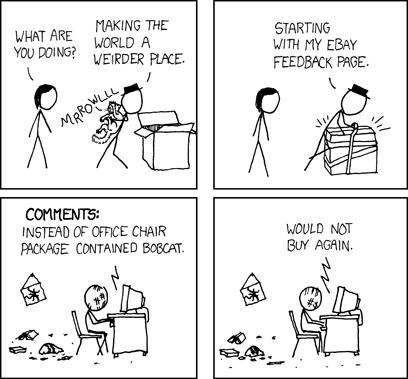 The author of the comic is Randall Munroe, a former NASA engineer, who also started another comic project in 2012, what-if.xkcd.com where he covers strange scientific questions in a homourous way (Relativistic Baseball)
New comics are added three times a week, usually on Mondays, Wednesdays, and Fridays, but publishing times may vary.
It might also be a good place to learn english, so I hope you check it out and like it!
PS: He also comments on Blogs: